Guarantee! Without viruses and hidden links!
autofilling of the address of the buyer by means of the Kladr service
Under goes for Joomshopping and Virtuemart 2
Plagin carries out integration with the popular service "KLADR in Cloud" to Joomshopping and Virtuemart 2.
Plagin is connected by
on the Registration pages and at purchase registration.
As it works with
: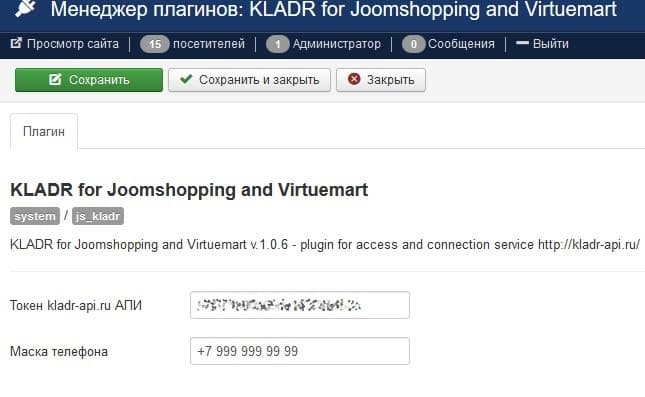 After installation of plug-in standard mode through the manager of the Joomla 2.5 and Joomla 3.x expansions, activate plug-in of

of KLADR for Joomshopping and Virtuemart

Having pressed on it enter API token received with kladr-api. you have no ru (service free)


If token receive it according to the reference kladr-api.ru having pressed the button "connect the website"
Plagin has completely open source code, has no restrictions for number of installations and bindings. Without garbage! It is unique!

Main opportunities:
Removes regions, the cities, settlements, villages, villages, streets, houses
Is able to filter data on regions, settlements and streets showing all list
Itself receives and enters data on parental elements and post indexes the necessary fields
Perfectly works as
with the One-page order. ( Onestepcheckout Pro Joomshopping )
you begin to enter the address, the field the city, and the plug-in itself loads the most similar points of residence in the list)
Works with
both in forms of registration and at registration
At input of the city, the plug-in will show hints - the list of the cities. At the choice of the city, also the field "Area" will be filled. Similarly and when filling the street - if the field the city is filled, then streets of this city will be offered.
Expansion allows to reduce time for filling of the address with the buyer and allows to obtain more exact data.