Guarantee! Without viruses and hidden links!
Plagin has no licenses and works on any domains!
Each buyer becomes more loyal to shop, when receiving any pleasant trifles for purchases. Let it will be sticker, card or discount card. Any gift will be good and will significantly affect final opinion on you. The last words as well as actions are remembered best of all.

Therefore sometimes not to tell the client more appropriate in advance that at you everything is so sweet and pleasant and it is not expensive. Let the client himself will make the relevant decision, and here when he already makes out purchase, you will give it pleasant opportunity of discount. But already on the following order which it at all other equal conditions, will make at you because it has coupon on discount in your shop.
Besides it can grant the right to use this coupon to acquaintances and friends.

That's it for formation of coupons which clients can use for the subsequent orders you can apply this plug-in.
Plagin automatically generates coupon code for clients, on in advance set conditions and sends it in the separate letter
Plagin of autoissue of the coupon allows:
- to give a task the status of the order at which the coupon is generated
- to set pre-and post-suffix for the coupon
- to set word length of the coupon (number of signs)
- the principle of formation percent or value (with the indication of the value)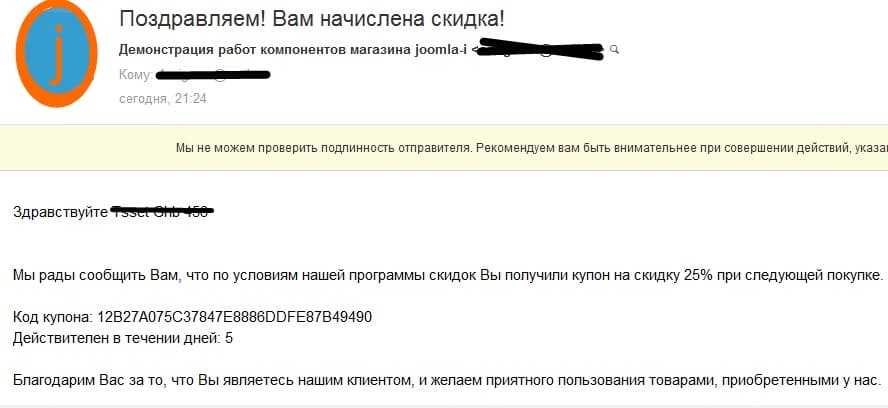 Installation
use
For installation the standard manager of the Joomla expansions, later include this decision in the manager of plug-ins" of JoomShopping - of Coupon of After of Order " and adjust as it is more convenient to you. Well works together with registration in one step .