Guarantee! Without viruses and hidden links!
JL Yandex Share PRO - social buttons (to share)

of JL Yandex Share PRO of v.1.2 - besides beauty and type of social buttons from Yandex, it also the full and effective instrument of tracking of statistics of flow of visitors from social networks (on condition of existence of Yandex of the Metrics).
On this car were made by these social buttons in the form of plug-in which is just integrated with various Joomla components.
Plagin Yandeks of the button supports by
the following components: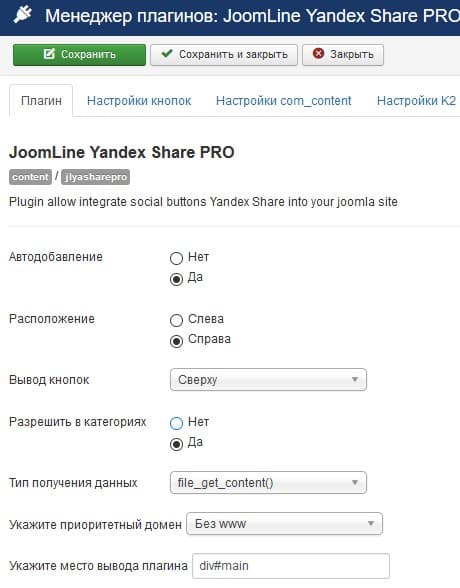 K2
of ZOO
of EasyBlog
of VirtueMart
of JoomShopping
of ADSmanager
In archive is available:
Plagin version 1.2 JL Yandex Share PRO
ZOO Element.
Plagin of integration of JoomShopping.
Plagin of integration into ADSmanager.
Plagin of integration of K2.
of Feature of plug-in of JL Yandex Share PRO:
Fine compatibility with Joomla 3. (including Joomla 3.6.5)
Compatibility with earlier Joomla 2.5 version.
Support of the materials Joomla.
Support of CCK K2.
CCK ZOO Support.
Support of JoomShopping shop. (including 4.15.1)
Support of Virtuemart shop. (including VirtueMart 3.0.18)
Support of Easyblog.
Support of ADSmanager.
Maintaining statistics of quantity of likes.
Protection against the ban on social networks for price markup.
Support of Russian and English.
Without restrictions, the hidden references and bindings!