AirShop - premium template with Adaptive design for virtuemart 3
of AirShop v1.5 is premium subject for Joomla 3.6 with modern futuristic design. Nothing superfluous, only what is valid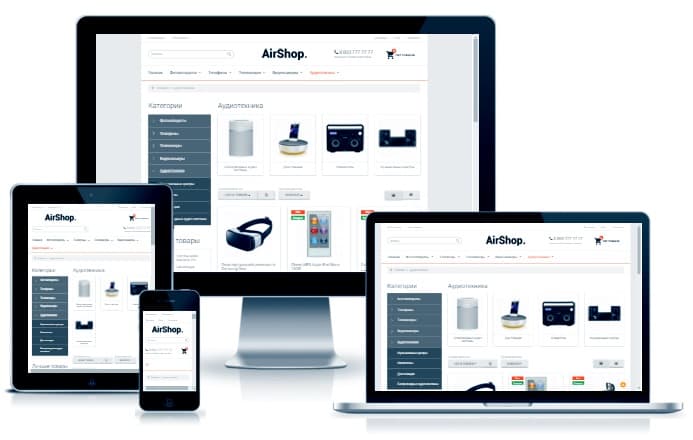 is necessary for convenient purchases on the Internet. The template works under rukodstvo of modern component of Internet trade of Virtemart of version 3. The thought-over look will allow to concentrate all attention at the visitor on your production. based on 100% of adaptability, even to those users come from tablets or smartphones will work also conveniently with the website, as well as when calling from the computer. Has 12 ready color schemes which will allow to use template for sale practically of any goods, and under logo necessary to you there will be the scheme. It is constructed on framework of T3 Framework which it is possible to scale and create easily the website with structure of any complexity.
by
In the subject AirShop have installed and adjusted all necessary extensions for fast start of shop ( look at demo in the characteristics point ). Everything that to you is required, it to fill it the with contents and to load the products, and the attention privlekt to itself shop. Information on start:
- In archive the reference to template with fast start of QuickStart by means of Akeeba Backup KickStart and the description of start.
Information on template:
Version of template: 1.5 and 1.4, 1.1, 1.2, 1.3
Joomla Version: 3.6.5
virtuemart Version: 3.2.1
Date of exit and updating of 21.04.2017
of Advantage of AIRSHOP:
Without binding to the domain and licenses
the Open source code with possibility of updating
the Filter of goods. On the filter from the license is required, you will be able to put the filter without license having got its parcel and having established over available -

follow this link.

by
has preset 12 color schemes. Choose one of 12 color schemes or create own in one pressing.
of Material design. The modern and thought-over material design for basic elements of the website.

the Adaptive design tested by us. Perfectly behaves on any type of devices.

Modular positions - 33. With such quantity of positions creation of structure of the website of any complexity is subject to you. Simple settings of adaptability directly from the admin panel

the Unique slider of goods which is also completely adaptive with support of touch and drag.

the Slider of producers as well as the slider - is adaptive, but displays producers. Support of touch and drag.

of Revolution Slider - slider of images with animation and support of mobile devices.

of Off Canvas Menu

Conclusion of goods list or tile. Allows to switch the catalog as it is convenient to user to watch it.

Sorting of goods according to parameters and producers.

of the Tab (taba) - Display of content in goods card in separate tabs, but the most important, this simple addition of new tabs.

the Possibility of addition of reviews of goods by means of the jcomments expansion and the integrated vk widget.com

the Enlarger of pictures (magnifying glass) - zoom and lightbox of the image in goods card with support of adaptability
Fast execution of the order without transition to basket, the order goes to mail. The script from the grandfather is integrated (it is necessary to change e-mail on which the order in the files of templates/t3_bs3_blank/buym e)
Badges (labels) will come to goods - attachment of labels to goods is possible without problems now. (hit, discount and t.p)
the Preset plug-in JMS MULTIUPLOAD - addition of several images for goods card in one click.
the Module of conclusion of goods which looked through recently or the best in side column.
Convenient execution of the order on one page - about use of plug-in of ONE PAGE. We have separate analogs - Onepage CHeckout and <" _ blank"> the Designer of basket
the Integrated component Virtuemart Email Manager Plus - which allows to adjust a href= "products/konstruktor-korziny-virtuemart-3" target= templates of letters for the buyer and the seller from the control panel.
Navigator of the website
Display of existence of goods
Support of registration of buyers
Search in the website
Elections of various options
of
Blog