Guarantee! Without viruses and hidden links!
The plug-in of Easy Checkbox allows to remove checkboxes by which at clique the price of the chosen goods increases in goods card.

It can be polezeno if the goods have additional paid options. Also the accompanying goods can use it as an alternative, having described them in the main description of goods. In this case the buyer just notes ticks additional necessary accessories (goods). Upon purchase data on the chosen checkboxes are also transferred to basket.
by means of this plug-in you can add some accessories, additives, stuffings, etc., to your main product which the client can choose. It works with the help of standarny plug-in, but this plug-in does not show tags, and you can have their unlimited number how many you want. The administration is very easy. Just enter several points with margin divided by commas.
the Plug-in is Russified by
and can be used on unlimited number of domains.
& nbsp;
& nbsp;
Here picture example:
& nbsp;
& nbsp;
& nbsp;
Plagin works as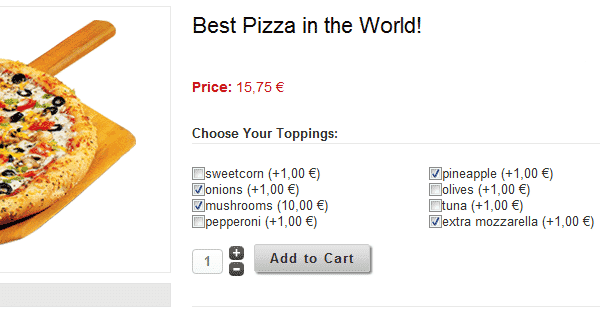 at Joomla 2.5 and 3.0 with Virtuemart 2 and Virtuemart 3

to Establish :

to Install plug-in through the manager of expansions in Joomla and to include it in the manager of plug-ins. </>
Then pass br to VirtueMart and to adjust plug-in in the user fields of the page. Choose New, and then in the adjusted type of the field to choose plug-ins. The name of type - Custom - Easycheckbox.

Then come into the program and select Paul's tab. In the adjusted fields to choose plug-in which you have created. Now you can enter the name, the Choice and to choose if you want that the plug-in is displayed in two columns.

Example of the choice of the field:

corn | +1, pineapple | +1, onions | +1, olives | +1, mushrooms | 1, tuna | +1, pepperoni | +1, additional mozzarella | +1
& nbsp;
In fact it nastarivatsya by
and works as point for the additional field. <href= "rabota-s-plaginom-easy-checkbox"> More detailed instruction .
the Easycheckbox Updating

New virtuemart 3 versions do not allow to use symbol "|" in team of plug-in. Therefore if earlier you used the old version of plug-in, then when updating it is necessary zamenit1 optsiya1 | +100, optsiya2 | +200, optsiya3 | +300 na1 опция1# +100, опция2# +200, опция3# to the +300th
& nbsp;
& nbsp;