E-pay - payment by plastic cards through acquiring of Kazkommertsbank.
Kazkommertsbank the first in Kazakhstan began to provide to Online stores service of acquiring - processing of payments on plastic by charts. The payment gateway of ePay has been for this purpose developed. Unfortunately, the procedure of signing of the contract with bank will demand forces and time, but the Kazakhstan Online stores have no alternatives. If legally you were connected to system, then it is possible to be connected and technically.
We are glad to present you the payment module (plug-in) for Online store on the Joomla 2.5 + Virtuemart 2.x platform.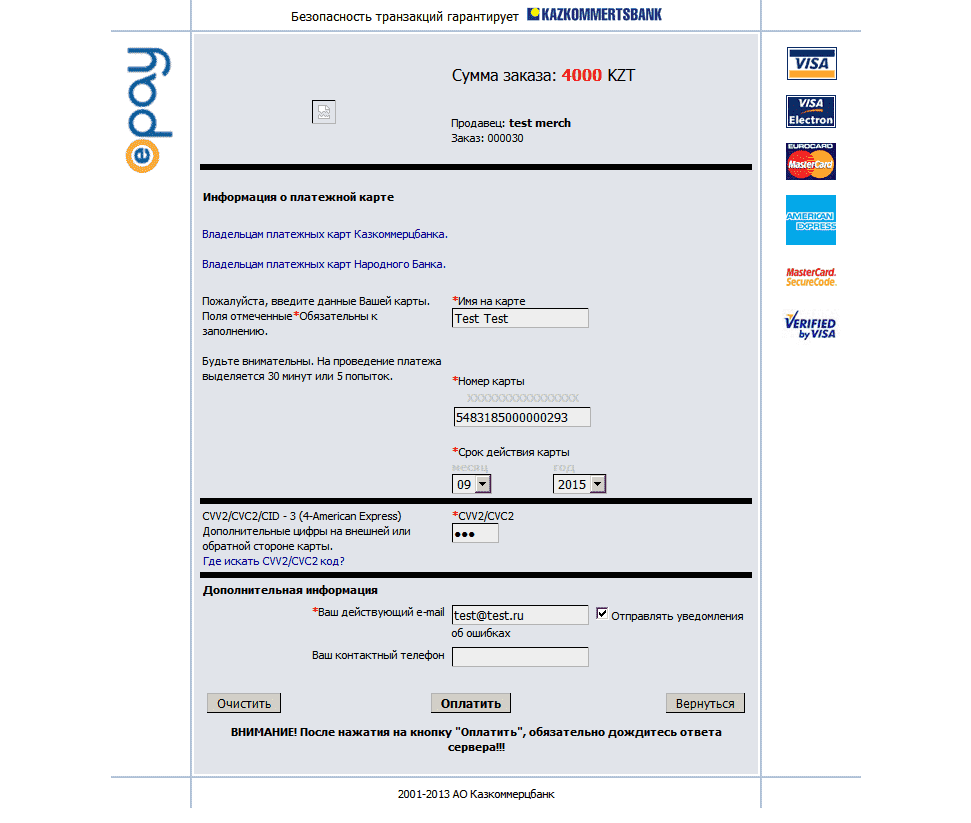 the Module allows to pay goods in Online store with plastic cards of the international systems Visa, MasterCard, American Express. Processing of payments is carried out by ePay lock.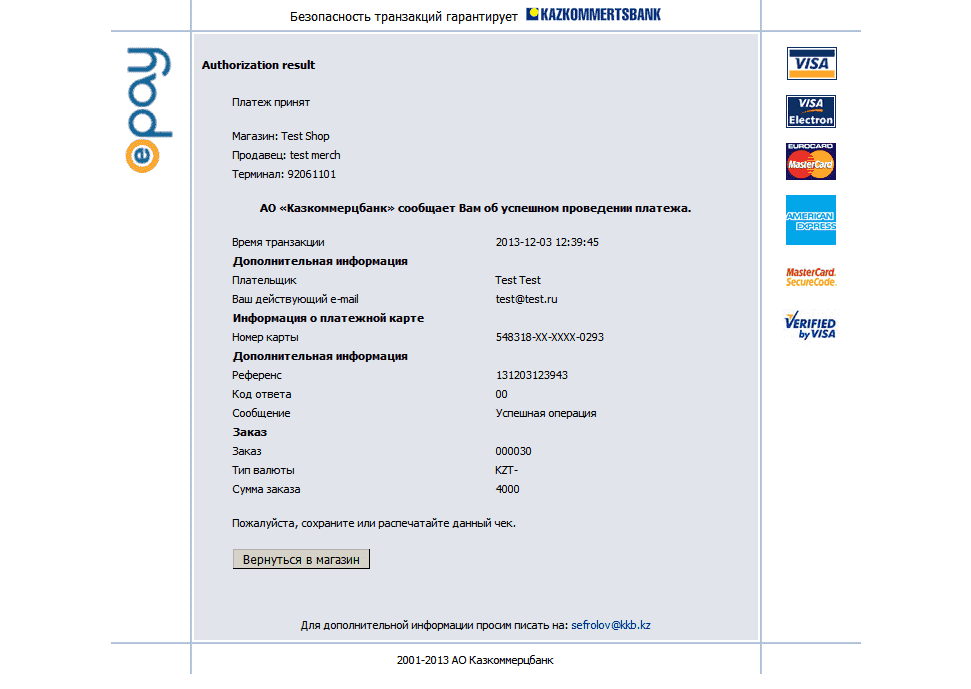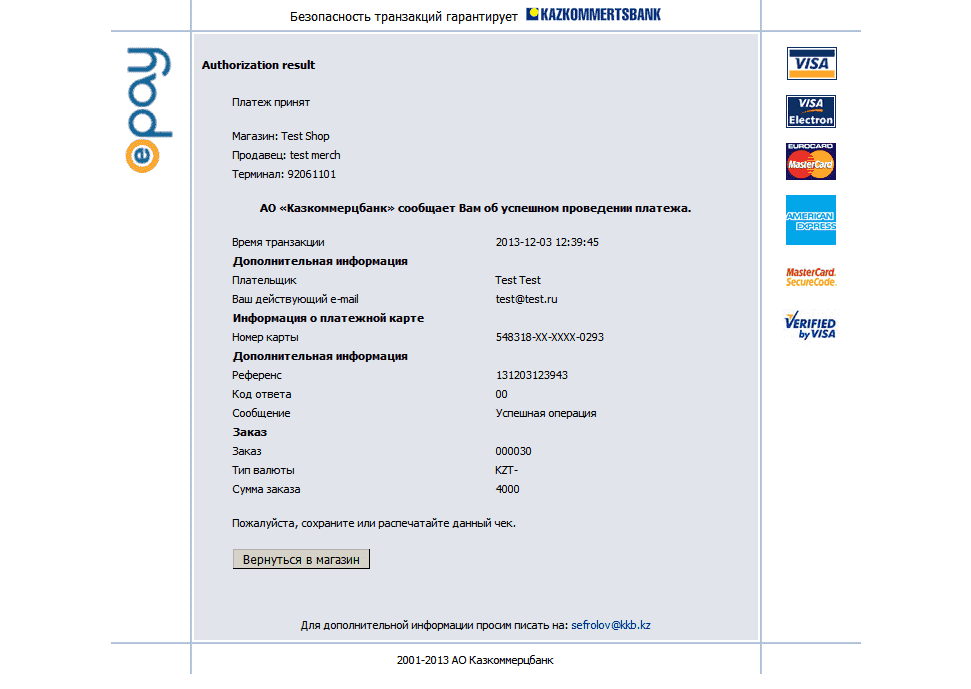 After successful payment the module changes the status of the order in Online store.
connection Parameters to payment lock and other settings of the module are edited by
through the system of administration Virtuemart. </>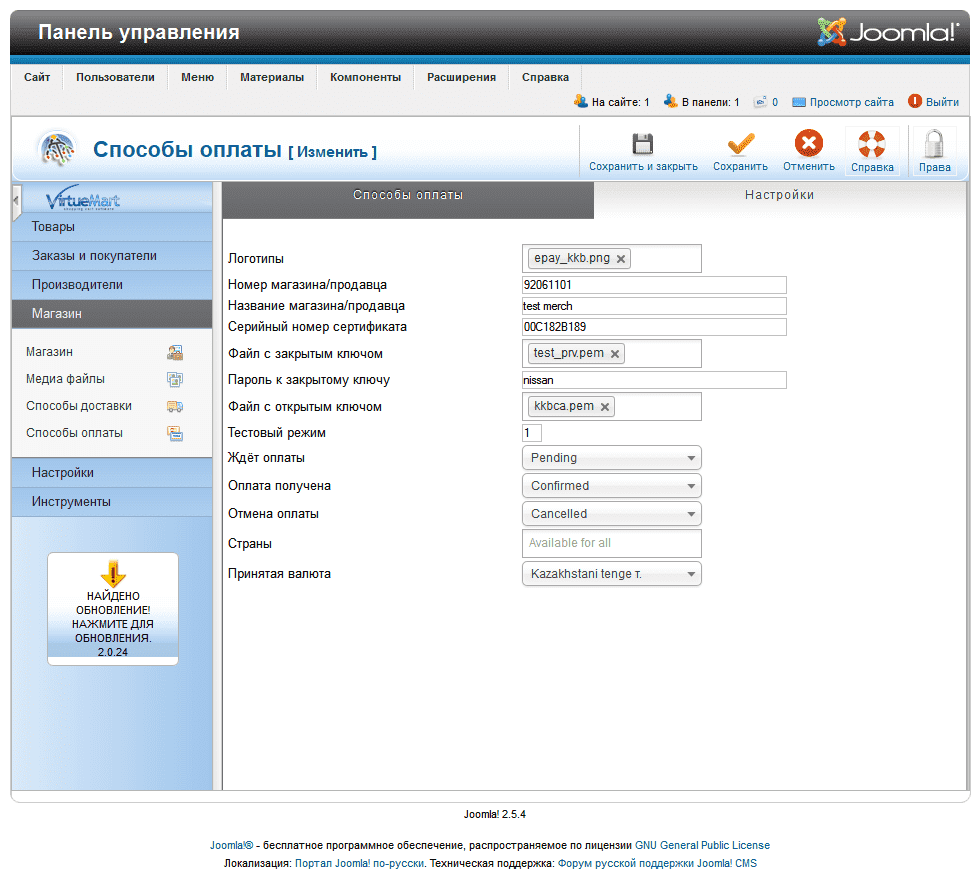 Installation of the module is made by br through the system of administration Joomla:
we Come into the Joomla admin panel, the top menu we choose "Expansions" - "The manager of expansions";
to Load and establish the file of package. The file of package is and there is zip-archive with the module;
we Open the list of modules - the Steering submenu of the manager of expansions;
has to
In the list of modules E-pay - Kazkommertsbank" will appear ". We include it - we press on red circle;
Is turned into steering of Virtuemart - in the top menu "Components" - "Virtuemart";
we choose by
In the left Virtuemart menu "Shop" - "Payment methods", in the appeared list of payment methods there has to be E-Pay;
we Come into this module of payment, there it is possible to adjust it, to enter the data sent by Kazkommertsbank for the fighting mode.
By default the module is ready by
for test mode. For payment of purchases through test system it is necessary to use test card.
the Name on chart: any Latin
Number: 4405645000006150
Term: 09-2015
CVV: 653
For transfer of the module to "the fighting mode", it is necessary to place in the folder of plugins/vmpayment/epay_kkb your website files of the keys sent by Kazkommertsbank and then to change settings of the module in the system of administration of the website.
the Payment gateway of ePay accepts payments only in Tenge therefore at your Online store there has to be currency of Tenge. The module can not work if you have shop on the IIS web server.