Guarantee! Without viruses and hidden links!
Autosave of basket for the user in VirtueMart 3
It is compatible to Joomla 2.5/3 + VirtueMart 3. *
Support of ionCube is not required to
. There are no licenses, stuchalok and third-party code in plug-in. Installation on various domains without restrictions is possible.

After installation of plug-in, the basket automatically remains with binding to the user. T.e, at authorization of the user on the website, he will see those goods which he has put in basket at last visit of the website in basket. For not authorized users nothing changes.
In archive the whole package from three plug-ins, is established by uniform archive. Plug-in of preservation of basket (stt_cartusave), plug-in of restoration of the kept basket after authorization of the user (sttcartlogin) and plug-in of clarification of basket after execution of the order (stt_cartudel). Installation of package is carried out standardly - through the manager of expansions. Plagin sttcartlogin in the manager of plug-ins has to be in the end of the list of the plug-ins filtered as "user"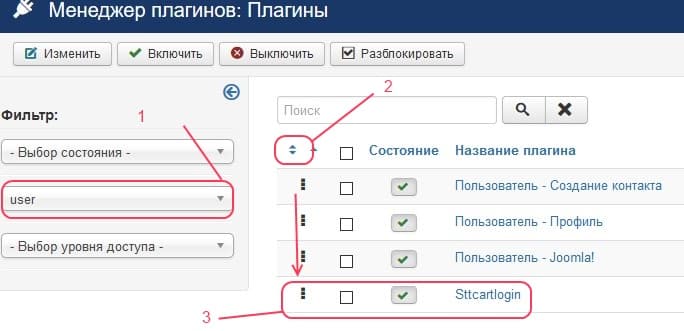 This version of autosave which becomes attached to the authorized user. On whatever computer/phone/tablet the user has visited your website - he will see the kept goods in basket. That everything was synchronized - it is necessary to pass after addition of all goods into basket. If in your shop the entrance is allowed not authorized users, then there can be problems. For example, the buyer has gathered goods in basket, and then has decided to become authorized, and it can turn out so that all goods from basket will be gone, and there will be those which it took last time (i.e. kept earlier).
Opportunity to put it is worth uniting preservations of baskets and to allow to add to the kept id basket of certain goods